We survived the 4th!
We survived the 4th!
Hello hello.
Happy belated independence day to my fellow Americans out there….
I meant to write a post about fireworks and such, but I learned why there are "NO RUNNING" signs near pools the weekend before the 4th of July.  Its not so much for children… its for stupid adults like me, trying to show off for children, and slip and throw their back out.  (go me.)
I was in bed for few days, and then the fourth was here before I knew it.  My neighbors had been setting off half sticks of dynamite that would shake my apartment from the weekend before the fourth to the days afterward.  Bacio was a wreck even before the holiday because of the neighbors.   He was trying to hide in one spot, another boom would go off, and he'd run somewhere else.  Yuki, as to be expected, just laid there.
I decided the night of the 4th would probably be extremely stressful for Bacio, and took the dogs out to the suburbs.  My aunt and uncle were having a BBQ and said I could bring them with.  Bacio got to swim in the river a bit and was feelin' good.  A little too good… My aunt said they could go inside with Max, her cocker spaniel, but we didn't even think about picking up Max's food.  Bacio, full of confidence and river water, went to eat the food and got into a scuffle with Max.  Its the first time he's been a d-bag to another dog (besides Yuki but that's just sibling stuff).
No one was hurt, but I felt terrible.  I kept the dogs on a short leash the rest of the day.  The dogs stayed at my dad's house while we went to see fireworks and they seemed to survive just fine.  A couple days ago I was talking to the neighbors who have two of the cutest shiba inu pups ever, and they said it sounded like a warzone here.  Glad I made the choice I did.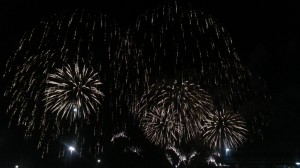 How did every one else's pups survive the holiday?